Your future awaits. Start here!
Expand your Tech Career Ηorizons!
Popular categories
Explore the most in-demand Tech Specialties
Featured jobs
Find your future job here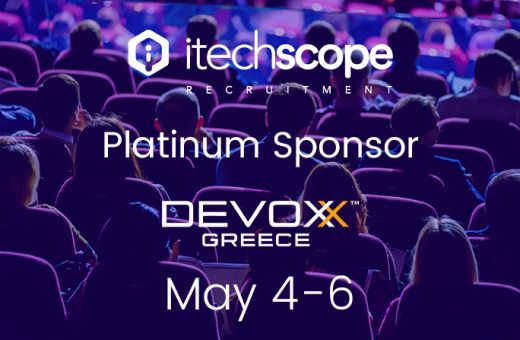 iTechScope, Platinum Sponsor of Devoxx Greece 2023!
Devoxx Greece is a 3-days conference where the developers' communities get together and explore the latest technology advancements with some of the most inspiring speakers in the sector.
What our Clients Say About Us

Peggy Theodorou
People & Culture Director, Advantage
We have been working with iTechScope for more than 8 years & their team always goes above & beyond. Despite our needs, they have us in mind whenever they come across a candidate that would fit our culture. They conduct business in an admirably ethical manner respecting clients & candidates, a rare trait in their line of business nowadays.

Renaldo Scheepers
Executive Chairman, Solace
We engaged with iTechScope when we started a new outsourced company in Greece & have been very pleased with the results. We like the way they take the hard work away from us & filter candidates by ensuring that they will be a good fit for our company's culture & values. I definitely recommend them for anyone looking to recruit in Greece.

Vergou Marina
Head of Recruitment, Groupama
Working with iTechScope has been great. They are cooperative & supportive as they handle each project with professionalism & provide effective feedback. We truly like their commitment to find the right candidates that meet all job requirements & fit our culture. We have built a strong partnership with them & definitely recommend their services.

Christiana Plymenou
HR Manager, Pollfish
Our overall communication & cooperation with iTechScope has been impeccable.Through their support, we have managed to successfully onboard employees, with very good technical, as well as soft skills.Its team provides detailed reporting on candidate profile & background, continuous feedback on all roles involved & a full understanding of the market.

Philip Kytinos
CTO, Cube RM
iTechScope supported us in covering critical tech roles at a scaling & demanding stage for our company. They have a good perception of the assigned roles, a direct approach to candidates & a wide experience & market knowledge of the IT sector. They provide insights that help us enrich our job descriptions & requirements in all relevant roles.

Konstantinos Gkiokas
BD-M&A Director, HR Head, TUV AUSTRIA HELLAS
Our cooperation with iTechScope has been fundamental in establishing the right team for our Regional IT hub in Athens. Their recruiters are communicative, efficient, committed & act in a professional yet cordial way. As we are growing further in terms of IT related roles, we count on their continuous support, to identify the right people.

Ioanna Koutrouvis
Managing Director, Predicta
Working with iTechScope for almost a year now, to fulfill highly demanding openings at PREDICTA, in both the Business Development & the Professional Services departments, was a very efficient process, with very satisfactory results. We would strongly recommend their recruitment service to any organization acting in the wider Information Technology sector.
Grow your scope with us!
Don't worry, we will never spam you.